Lincoln Federal takes pride in the magnitude and generosity of its employees. The Bank is committed to giving back to the communities we serve. Through our Lending Hands program, employees donate their time, talents, and funding to charitable organizations across the state of Nebraska. During 2018, the Bank donated 812 hours, 466 of which were on employees own personal time and thousands of dollars to support the work of these organizations that rely on donations for continued success.
Annual Make-A-Wish® Golf Tournament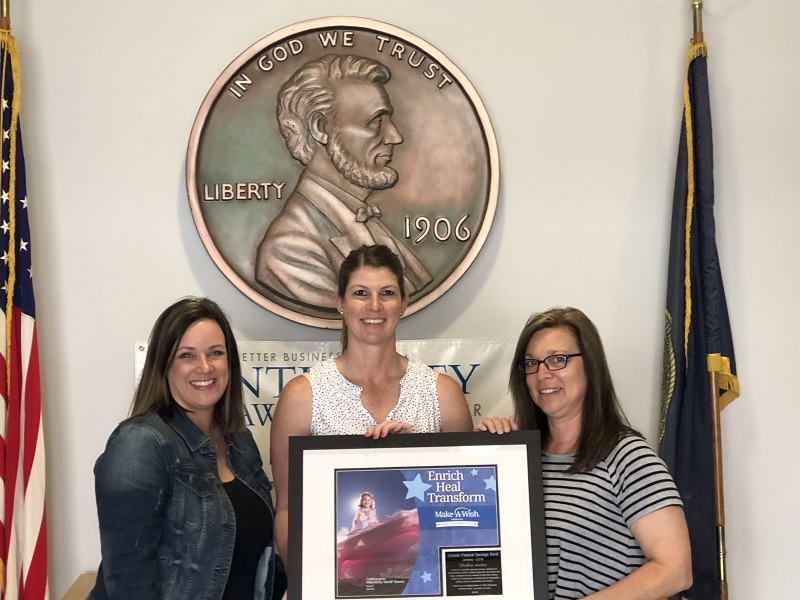 Lincoln Federal Savings Bank celebrated its 100th anniversary in 2006 and formed a Centennial Committee with a goal of giving back to the Lincoln community through volunteering and charitable donations. We wanted to organize a benefit golf tournament and The Make-A-Wish® Foundation of Nebraska was a great fit. What started off as a benefit tournament for our Centennial year celebration has evolved into a very successful annual partnership that makes dreams come true for children diagnosed with life-threatening medical conditions.
In 2019, Lincoln Federal raised over $6,500 for Make-A-Wish, sending Caleb to Disney! This is a public charity event that is made possible by our golfers and sponsors. If you're interested in participating in this event you can direct inquiries to lfsb@lincolnfed.com.
LincolnFED Kids benefit Lincoln Public Schools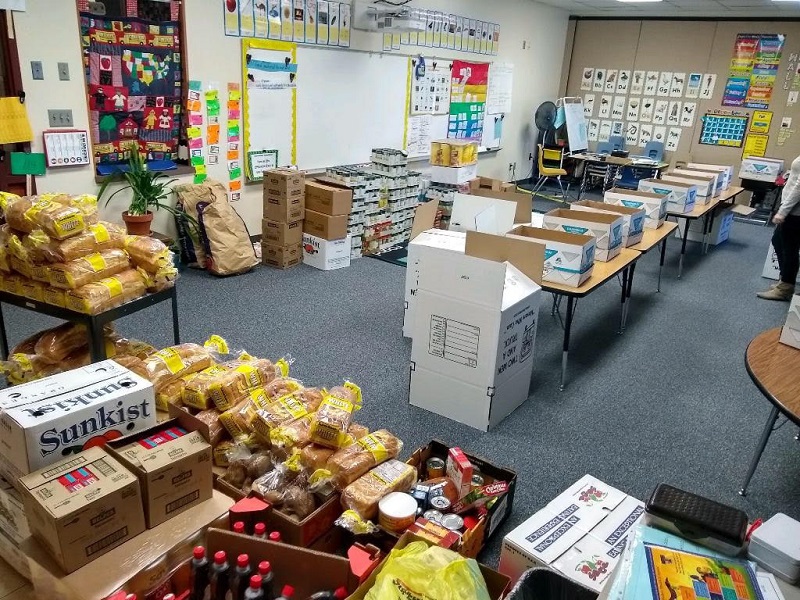 In an inquiry to Lincoln Public Schools in 2005, we discovered how desperately in-need students and their families are to receive help putting food on their dinner tables when home from school during the Christmas holiday break. The employees at Lincoln Federal Savings Bank came together to create the LincolnFED Kids program to raise money to provide these families with baskets of food. Our baskets consist of a variety of fruits, vegetables, meats, bread, cereals and the proper fixings for a holiday meal and desert to feed the entire family. The Bank and its employees promote this program throughout the year with many different fundraising opportunities. The amount of baskets continues to increase and this year, we are planning to deliver food to 125 local families from Lincoln Public Elementary Schools.
According to one Lincoln Federal employee "This program is very close to my heart. As a mother, I cannot imagine children in our community going to bed hungry or hurrying to school in the morning just to fill their empty bellies. Most kids count down the days to Christmas and better yet, Christmas vacation. Hopefully these food baskets give these kids and their families the comfort they deserve to enjoy the holidays."
Junior Achievement of Lincoln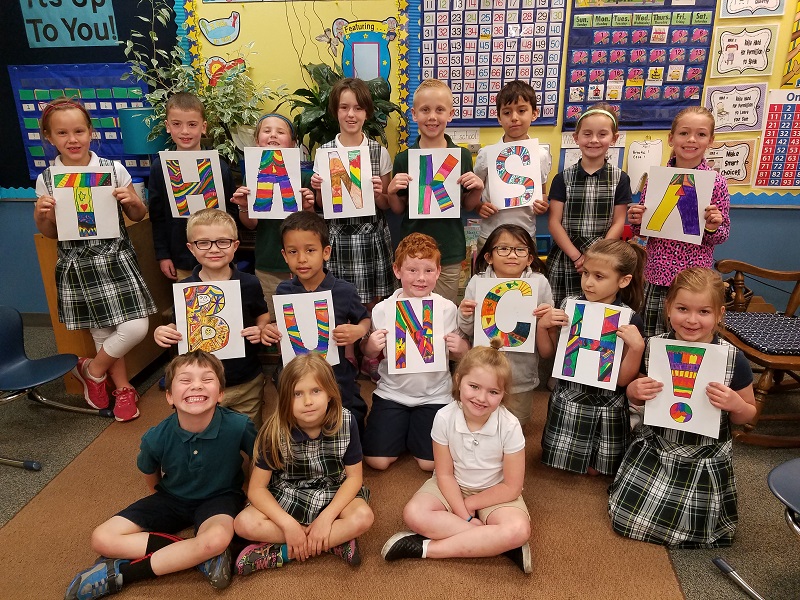 Junior Achievement is the world's largest organization dedicated to educating young people about business, economics, and free enterprise. JA provides current, state-of-the-art educational materials, computer software, and trained volunteers at no cost to the schools or students.
Lincoln Federal Savings Bank has been involved with this organization since 2009 with volunteers in 98 classrooms in Lincoln's Public and Parochial Schools. The Bank is able to further support their programs through fundraising efforts by participating in their Annual Bowl-A-Thon. Our classroom volunteers continually comment on how they enjoy being able to use their experience in the industry to educate local youth about the importance of understanding finance and economics.
Casual For A Cause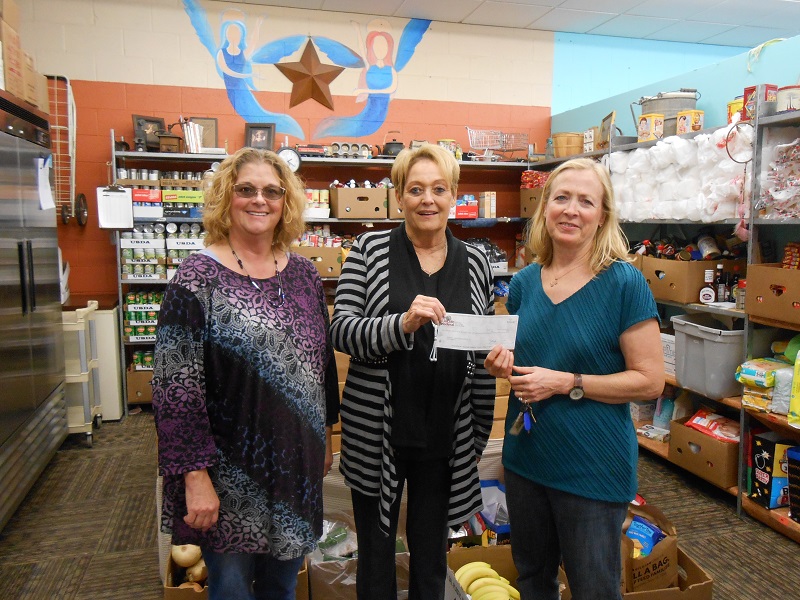 Each Friday throughout the year, Lincoln Federal employees are encouraged to dress Casual for a Cause. This means that the employees can dress down for a fee. At the end of the year each of our locations choose a local charity to benefit with the funds raised.
In 2018 we contributed $2,590 to our local charities including, Autism Speaks, Friendship Home, Tiny Hands, Lincoln Food Bank, Matt Talbot Kitchen and Outreach, Phelps Memorial Service League, McCook Food Pantry, The Bridge, Joseph's Coat (pictured), and Project Home.
Nebraska Community Blood Bank
Lincoln Federal Savings Bank holds a blood drive for the Nebraska Community Blood Bank at the home office parking lot every eight weeks. Blood is needed in our community every day and each Lincoln Federal donor is able to help by donating a pint of blood at every drive. Blood drives are very important because they make up one third of the units collected. It's scary to think that a single car accident victim may require as many as 100 pints of blood. The blood bank relies on drives such as ours to replenish their blood supply. The Nebraska Community Blood Bank is a vital part in maintaining blood supply for those in need and we are grateful for our donors for being the types that give!
VITA - Volunteer Income Tax Assistance
The Volunteer Income Tax Assistance (VITA) program offers free tax help to people who generally make $54,000 or less, persons with disabilities and limited English speaking taxpayers who need assistance in preparing their own tax returns. IRS-certified volunteers provide free basic income tax return preparation with electronic filing to qualified individuals.
Our CFO, who has volunteered with this program for eight years, says, "The Bank has been very supportive in allowing me time off during the day to participate in the program and attend training sessions each year. I have to get re-certified each year, in order to prepare the returns. Many people feel overwhelmed and stressed when it comes to filing their taxes, and I am so glad that I am able to help. I have met many interesting people over the years, and especially enjoy the repeat customers."
Other Charitable Events/Donations:
2019 Flood Relief – All Locations
Arthritis Walk – Lincoln
Central Plains Ribfest – Holdrege
Community Day – Blair
Friendship Home – Lincoln
Heart Walk - Lincoln
Home Builders Association Chili Cook Off – Lincoln
Making Strides Against Breast Cancer Walk - Lincoln
Matt Talbot Kitchen & Outreach – Lincoln
Meals on Wheels – Benkelman, Holdrege, McCook
MS Walk – Lincoln & Omaha
Phelps County Food Pantry – Holdrege
Run for Warriors – Fremont
Salvation Army – Fremont & Lincoln
TeamMates – McCook & Lincoln
United Way Day of Caring – Lincoln
Walk to End Alz - Lincoln